At milepost 203 of I-57 in central Illinois lies the small town of Arcola. If you were to take exit 203 and follow Illinois state route 133 west for about ten miles, you would come to a small town called Arthur. I speak of Arthur rather frequently, the Schrock cabinet company is located there. Their main plant, customer service and logisitics operations are in Arthur. My immediate supervisors, my dispatcher and account manager operate out of Arthur.

Nestled halfway between Arcola and Arthur is a small community called Chesterville. Chesterville, along with Arthur and Rockome Gardens comprise one of Illinois' largest Amish settlements. The towns are full of "Dutch kitchen" restaurants, "Handmade Amish" furniture stoes and every establishment has hitching posts in the parking lots, from the Dollar General to the medical clinic.

Like most communites in this part of the country, the skyline of Chesterville is dominated by the towering specter of its grain elevator.




But it's two, much smaller and indescript sites which make Chesterville an interesting place. The first of these is an old wooden church which sits in one corner of Chesterville's only intersection.




Viewed from the side, it looks like it's sinking...




...but what's actually happening is the southern wall is beginning buckle between the foundation and the roof.




Eventually I presume it will collapse beneath the weight of its own roof, the windows, if they hadn't already been vandalized have lost their glass as the panes warp in the buckling, save one window, which is largely in tact.




The church has a basement and due to the buckling, the first floor has tilted into the sublevel. So in a way, I guess it is sinking, into itself.




It's hard to tell due to the blurriness of that last picture, but that wall is the "front" of the church where a pulpit would've been. It looks like the building has been used for other things since its days as a place of worship. Judging from the junk inside and the addition of a ramp and side door added on the north side of the structure that it has been used as garage at some point. Written in spray paint on the front wall, which didn't turn out in this picture were the words "Alice's Restaurant Massacree". If you're not familiar with the song, Arlo Guthrie makes mention of an old church that Alice and her husband Ray live in. They threw all their garbage down "where the pews used to been" which is the intial conflict which sparks the rambling story of Alice's Restaurant.

On the back wall of the church is the door leading out to the entrance and some more graffiti. But what's interesting is above the door.




Apparently the Amish like to play basketball, especially after a tough morning of fire and brimstone preachin'. Actually, it's a little known fact that, prior to his conversion to Islam, basketball legend Kareem Abdul Jabbar was indeed Amish. It's true!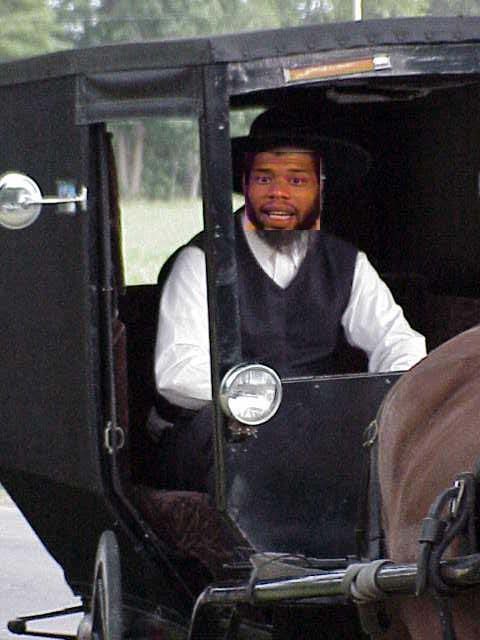 His Christian name was Zebediah Yoder.



As if the crumbling church in Chesterville isn't cool enough, 100 yards down the road is one of the coolest things anywhere, ever.




Yes sir, step right up... have we got a buggy for you! Quality used buggies with the largest selection ANYWHEREand deals that can't be beat!




Just take a look at our selection of premium, gently used buggies. Looking for that perfect "first buggy"? This one is a dandy. It's a sporty, convertible model that needs a little upholstery work, but is otherwise sharp, sharp, SHARP.




Not looking to be caught in the rain on that excursion into town but want a buggy that still screams style and sophistication? Try this baby out. With front and rear lights, a side mirror, horse-poop deflector and WINDHSIELD WIPER - this ain't your daddy's buggy, that's for sure.




But maybe you're at a different place in life. Have a gaggle of kids and woman to cart around but still want a buggy that commands the sort of respect and admiration from the town folk that you deserve? As you can tell by the streamers cascading from the side mirror, this next beauty is the Cadillac of buggies.




Handcrafted leather upholstery and side windows for plenty of natural light and optimum visibility....




...and a sliding side door to give access to the back seat and a rear viewing portal!




If you're looking for the best of both worlds, maybe you'd like our family recreational model. Comfortably seats four for that lazy, Saturday afternoon ride down to the river for a nice picnic.




Are you looking for something for junior? Maybe junior's learned how to handle the family buggy but he needs somethinga little more stylish and racy. Something he can impress his sweetheart with when he goes a'courtin' and be the envy of his peers. He can't be seen in pa's old box-shaped buggy now can he? I know how it is, I got one of my own... that's why I got my boy one of these:




Now, I know what you're thinking. It's so RED. But these kids today, they love to make a brash, bold statement and nothing says it like red spokes and yokes. As you can tell this puppy is cherry and detailed, right down to the matching red carpet on the floorboard. Junior will be the talk of the town and you can rest a little easier knowing not only is he in a quality buggy, but that with its open-air design, all eyes will be on him when he takes his sweetheart for a ride. There's nothing like a little good old-fashioned public scrutiny to keep the youngsters an appropriate distance from each other on that buggy seat, if you know what I mean.

Finally, sir... if I may be so bold, you look like the sort of man who has taste and class. I can't always pin the needs of a man when he walks on the lot but I can sense his style. If it suits your needs sir, let me show you one last model I have on the lot. Actually, it's not even on the lot yet, it's parked next door if you don't mind to take a short walk this way. It's not for every man, as it comes with a price tag is befitting its distinction, but I'm sure you'll agree, this is no oridnary buggy. Buttoned, white leather upholstery with matching paint job and a tasteful red canopy set off by a natural wood-finish yoke. This is one special carriage.




Breathtaking is it not? As you can tell it...
The what sir?
Oh the sign. No, I have no idea, sir. This parking lot actually belongs to the collectible place next door. Your guess is as good as mine as to what that means.