Technically the subject is a lie because, as mentioned previously, we met for A Prairie Home Companion the previous day. But our time was so abbreivated the first evening that it wouldn't be fair to call it a meeting.
atthestarz and I met
hockeyfag at the Mall Of America on Sunday morning to basically hang out. I am not typically a fan of malls, but this is sort of the mall.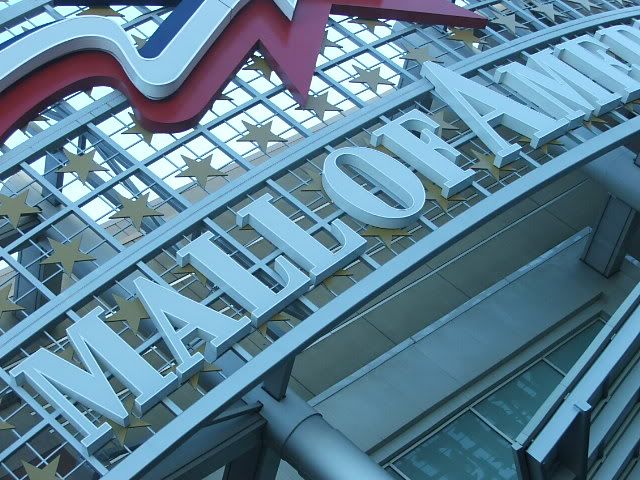 I like to do a lot of things simply so I can say I have done it, particulalry when it comes to major attractions and national icons. Now if anyone ever asks if I've been to the Mall Of America, I can answer "Yep!" Upon arriving,
atthestarz and I grabbed some coffee and strolled around a bit while waiting on
hockeyfag. From our perch in the food court, we had a nice view of Camp Snoopy, the amusement park which resides inside the mall.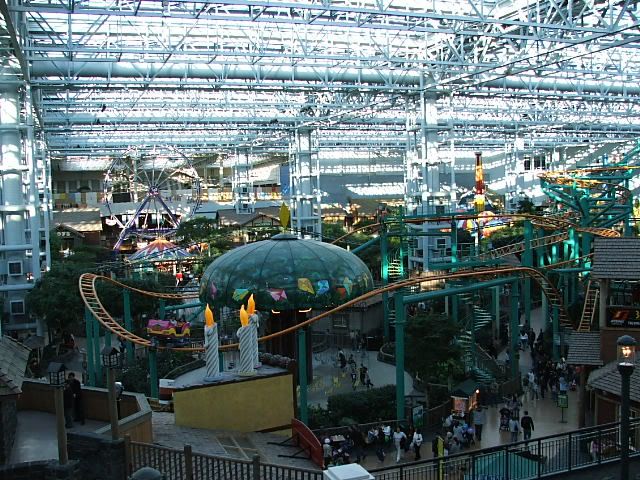 We also had a nice view down into the Lego store.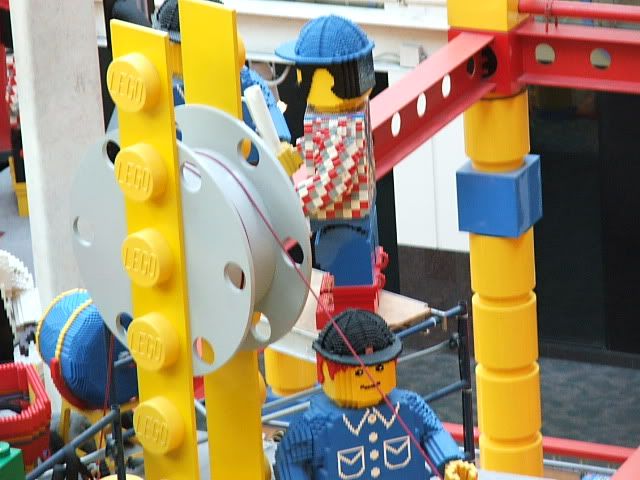 I had located a WiFi connection and proceeded to compose the journal entry I posted that day. Not longer after I began that composition, though,
hockeyfag called and we gave him our location. He quickly found us. I snapped this quick picture while sitting at the table in the food court. It came out kinda dark but it's a really good picture of him otherwise.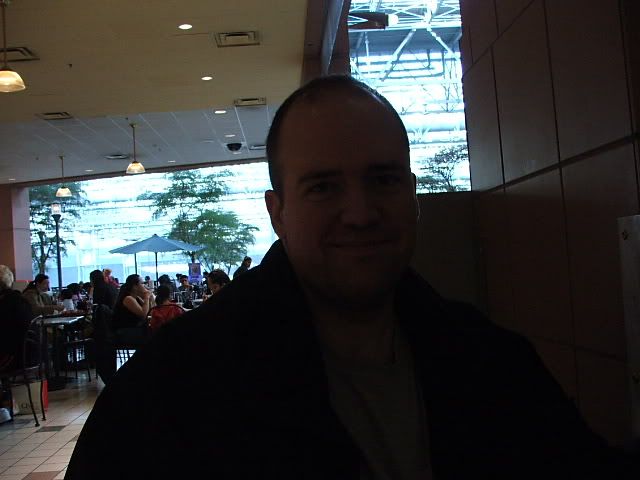 And we began to walk around the mall. I mean, the entire mall. It's three stories tall and loops around the amusement park in the center.




It's mostly filled with typical mall fare: Old Navy, Radio Shack, Spencers, etc. And a katrillion T-Mobile kiosks. I think my favorite store was Alpaca Connection.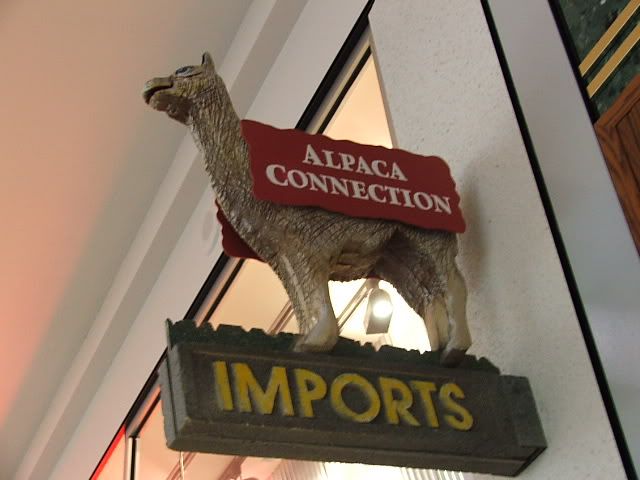 It was filled with sweaters, rugs, and all manner of textiles made from the coats of Alpacas.

I was a good consumer. I bought the Beastie Boys anthology DVD which I've been meaning to get, like, forever. And I bought a Zippo! It looks like this...




I also bought some deeeeeep, friiiiiiied, Oreos!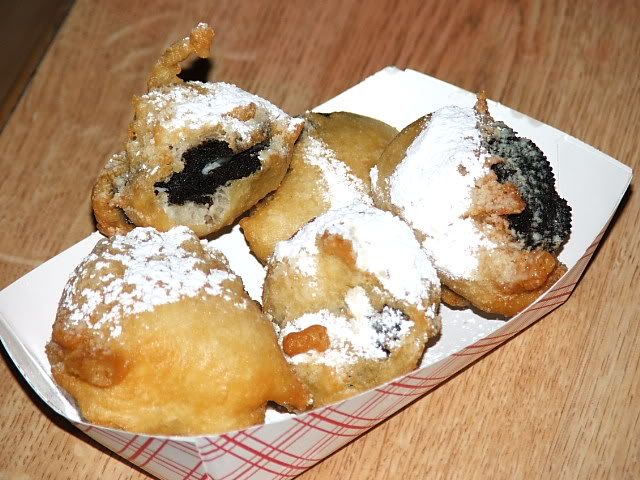 Eventually our tour brought us to the ground level where we checked out the Lego store from the inside. They had a Harry Potter made out of Legos....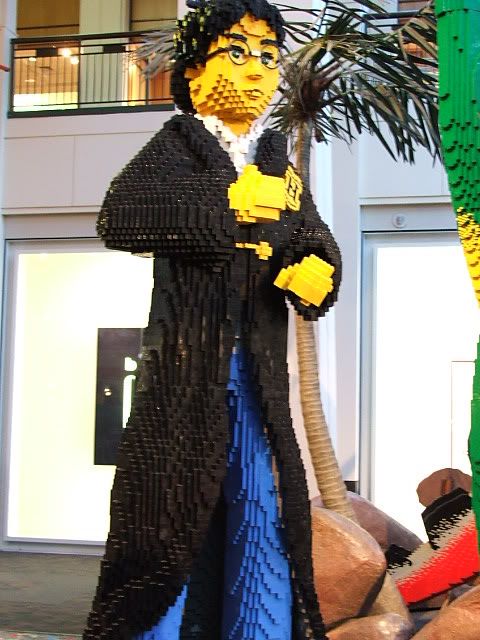 ...and Mechanic Dude, complete with ripped jeans....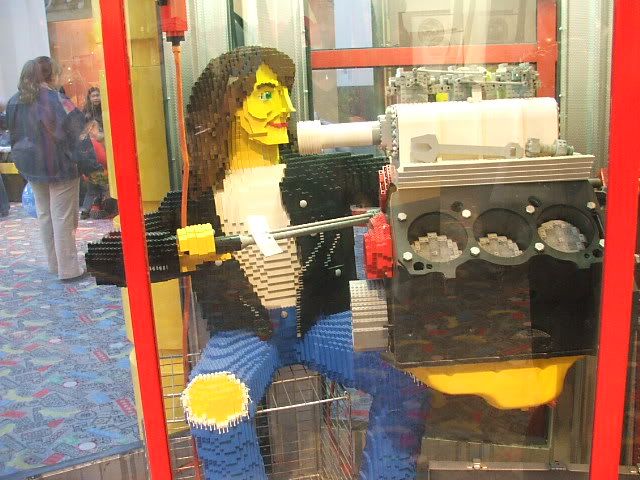 ...and I got my picture taken with Boba Fett. I always thought he was much taller than that.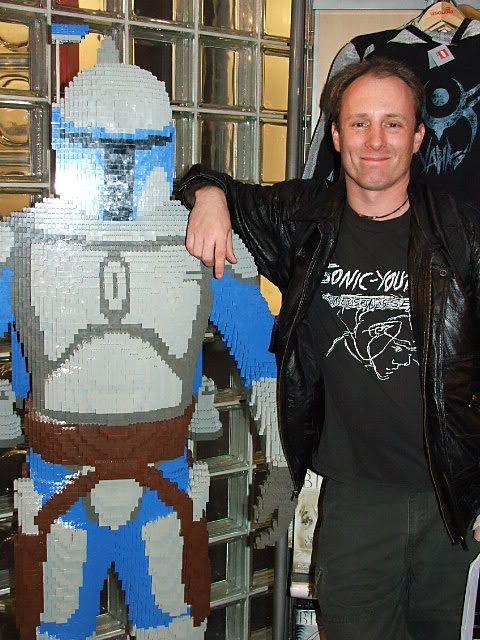 We ended our tour with a walk through the amusement park, where I bought the Oreos. It was getting dark now and I got this cool photo of the ferris wheel.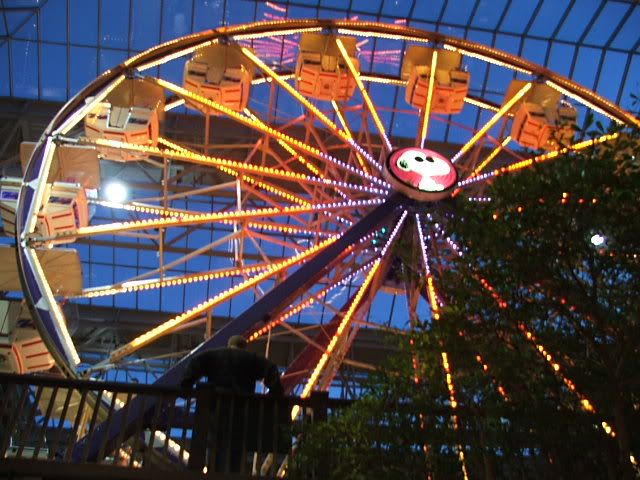 The three of us then went to a nice restaurant called Figlio.
hockeyfag had some awesome loking chile and
atthestarz had some ravioli that was stuffed with... pumpkin! Pumpkin! I had to try some. It wasn't bad... but not what I typically think of when I think of pasta. As for me, I had some steamed mussels to start and then some excellent pesto with shrimp pasta. For dessert i Had Tiramisu. I must confess I much preferred our Italian dinner than the Russian one from the previous evening... but then, I'm a fan of Italian food. So I'm biased. I feared that,
hockeyfag being an ex-trucker, we might bore
atthestarz to tears with shop talk. We did quite a bit of it, but we also had some good conversation about other things as well. When I asked
atthestarz about it later, she quipped that those moments were payback for all the Learning Channel programming I was being subjected to.

After dinner, we parted ways with
hockeyfag and went back to the house where we had some serious playtime with the kitties.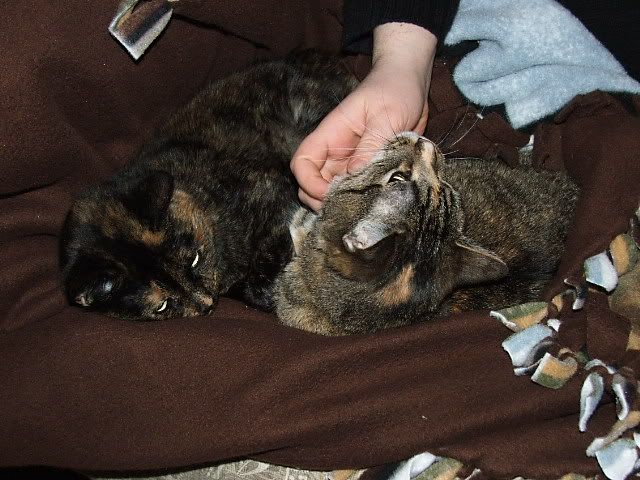 There's a little green light that shines out of my camera that helps the lens to focus and make an auto adjustment for lighting. The kitties had a blast chasing the little green light all around the room trying to catch it.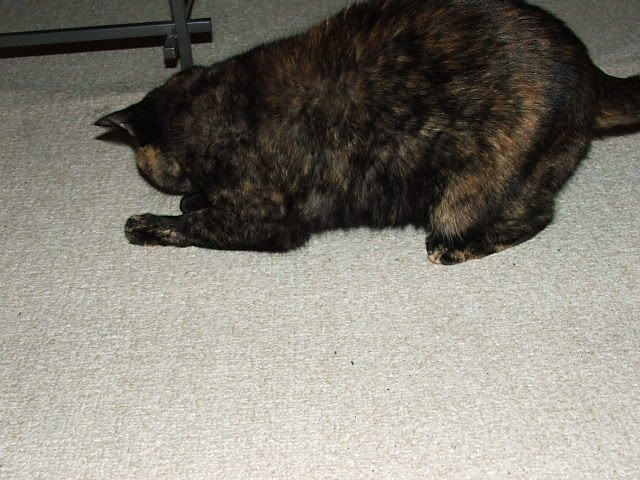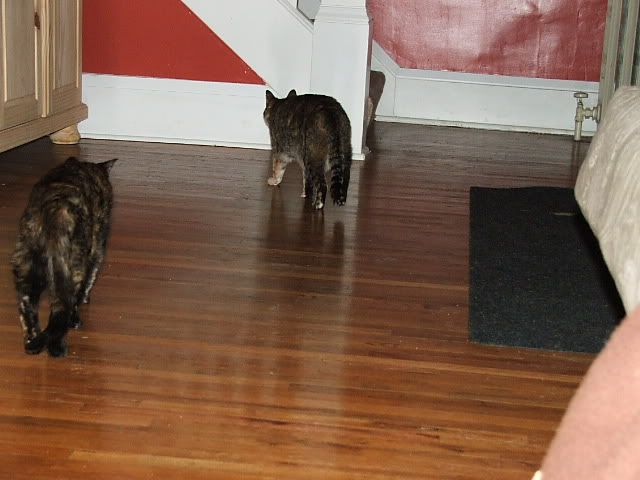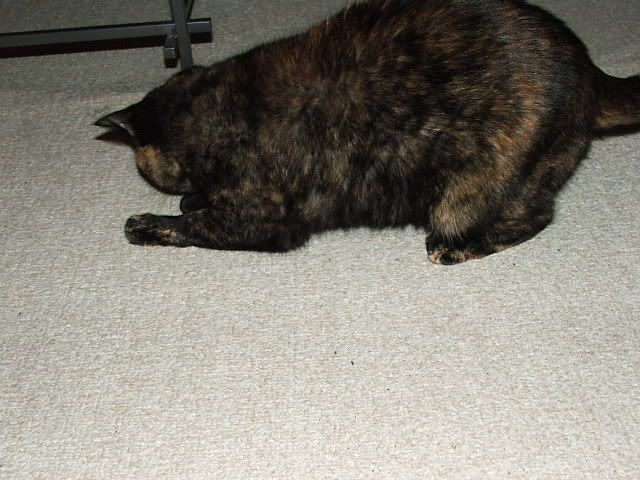 And so ended my second day in the twin cities. So far, it had been full of fun and good company, but the most eventful day of my trip was yet to come. So eventful that it will require TWO more entries to do justice to the events properly: my plane ride with
hockeyfag and my visit to the shoe tree with
atthestarz!