Location: Oak Grove, MO
When Roger and I left Chillicothe we took U.S. 36 across Kansas into Colorado. This was the first time I had been along this route. With the days growing shorter, a lot less time is spent being able to enjoy the sights as you drive. Early in the day we stopped in Hiawatha, KS for some lunch and parked briefly in a grocery store parking lot while Roger wired some money home to a friend. While he was busy with Western Union, I decided to play with the camera. They had gotten a good deal of snow in northern Kansas and it was still on the ground, in the trees and stuck to things... which made for some pretty photos. I seem to like "busy" shots, with lots of things in the foreground and background. For me there's something aesthetically pleasing about the lines of pole, wires, and the edges of buildings and signs breaking up the shot. So that's what I was concentrating on when taking these shots.
This one is probably my favorite of the bunch.... I like the way the signs in the foreground are all "partial" due to the framing of the shot or obstruction by the truck and snow while nearly all the signs in the background are simply too far away to really read, but you know what they are by their shape and color because you've seen them a zillion times in a zillion other towns.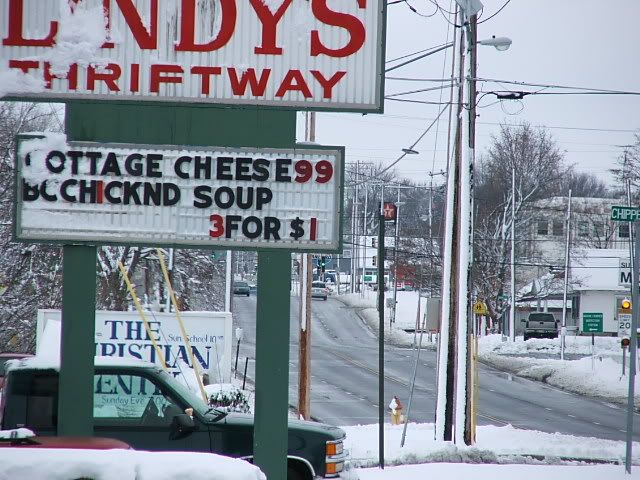 (
Collapse
)
Last night, Roger and I stoped in French Lick, IN. I stopped for a picture taking excursion there once before last year, but with one of my cheapo, craptacular cameras. I figured tonight was a nice opportunity to grab a few new ones for my digital road chronicles. It was late in the afternoon with only about an hour of daylight left. Not ideal for picture taking as the sun was already sinking below the horizon or hiding in the clouds. It didn't make for spectacular outdoor photos around the premises of the French Lick Springs Resort like I wanted, but I did take a few really neat shots of this water tower in the distance. There were a flock of birds that would zoom together in unison from one side of the shot I was framing then they would come back about every ten seconds.... almost like they were working with me, giving me a chance to retake the shot multiple times.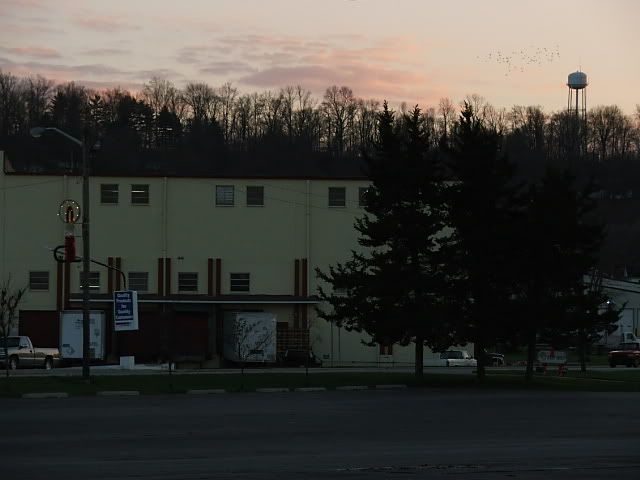 (
Collapse
)